Image by Kathryn Berry Films
Being a wedding videographer, I've visited or had the opportunity to capture some wonderful wedding venues. One that I always find suits my personality and style is a barn. Having a barn wedding venue is popular at the moment and with good reason! I love a barn wedding; I love that red brick aesthetic, that rustic feel, how versatile they can be when being totally transformed to suit your personal tastes; either a boho haven of dreams or the fun vibes of a feel good festival. If you're planning for a relaxed, fun, feel good wedding in the North West and you're looking for a venue where you can add your own personal stamp and personality to your wedding, I'd highly recommend a barn.
Being based in Lancashire in the North West, I'm lucky enough to live near a lot of beautiful barn wedding venues closer to home, but that's not saying that there's nowhere else in England or the UK that can host an incredible barn wedding, it just means I haven't heard of them yet, but I'm sure they'll appear on my radar at some point! So here is a little list keeping it short and sweet of my dream barn wedding venues.
Larkspur Lodge, Knutsford
First up, set in the beautiful countryside, surrounded by stunning green cornfields of Knutsford, it's Larkspur Lodge. A little bit of history from this venue, the barn itself is 200 years old but has been restored to keep up to date with the modern trends. Larkspur Lodge holds a capacity of 150 seated guests (your day guests) in both its ceremony room and 'the lodge' and expands to 180 evening guests.  A couple of my favourite things about this venue- firstly the ceremony room has vintage flip up cinema seats around the walls of your venue bringing so much character and fun to the room. Secondly, the reception room is full of natural light which as a videographer, brings me so much joy! (Natural light is always the most flattering!)
Back in September, I had the joy of working with some wonderful suppliers capturing the beauty of Larkspur Lodge and I would highly recommend this venue if you're looking for a bit of fun with your rustic setting- if you'd like to see what all the fuss is about, check out the video below!
RIVINGTON HALL BARN, BOLTON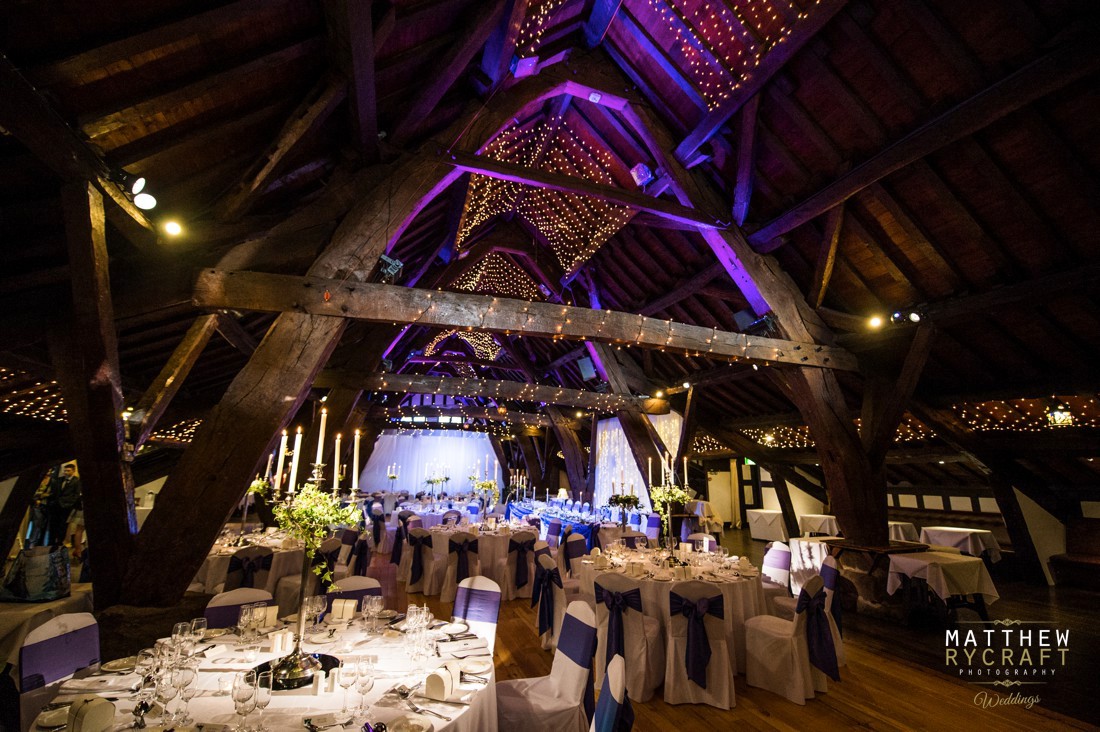 This venue is right around the corner from me- well near enough, it's a 5-minute drive, but I've grown up walking around Rivington's various walking trails and always marvelled at the beauty of this Grade II listed building. If you are looking for an 'olde' style barn with that traditional black and white exterior build, with the high-rise ceilings and wooden beams, this should be on your venue viewing list! From the outside, I've always thought it seems small, but once you see inside, the huge space is perfect for your 180 day guests and a massive 350 evening guests. This barn is beautiful for dressing in several ways. If you are looking for a spectacle, check out this Lord of the Rings themed wedding at Rivington Hall Barn. However, if you fancy something a bit more lowkey- the minimum daytime guest count is 85 and 150 for your evening do, therefore perfect for both occasions!
MEOLS HALL AND TITHE BARN, SOUTHPORT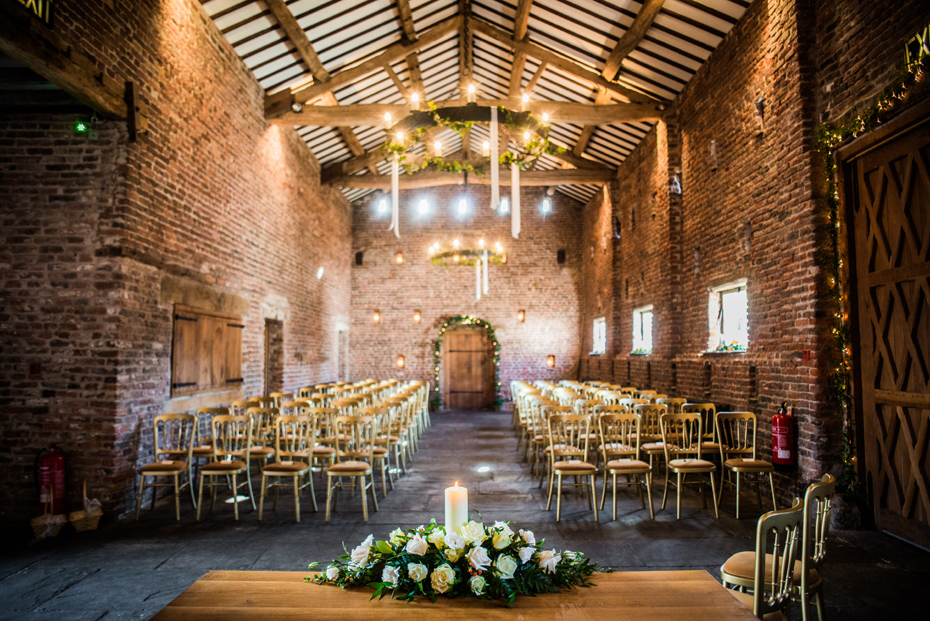 Set in the beautiful seaside town of Southport, Lancashire is Meols Hall and Tithe Barn; a stunning 400 year old manor house with a beautiful restored barn (Tithe Barn) which "combines modern facilities with olde charm" to quote their website. Similar to Rivington Hall Barn, Tithe Barn boasts a fantastic high-rise ceiling with wooden beams encased in that beautiful red brick that I love, it brings so much character! Meols Hall is a wonderfully versatile venue; surrounded by acres of private greenery, perfect for a moment to get away just the two of you; a traditional cobbled courtyard, ideal for those summer drinks, and Tithe Barn, your ceremony space seating 120 guests expanding an extra 60 for your evening party, it's the perfect number for your summer boho, rustic wedding!
Next up, although I haven't yet shot a wedding at this venue, it's up there on my bucket list! Set in the beautiful Forest of Bowland, Scorton, Lancashire is Wyresdale Park. If you're looking for a super romantic, 'poetry in real life' venue, then this is for you. You have access to three barns on your wedding day; one for ceremonies, one for you wedding breakfast and one for your evening party. In addition to this, within the grounds you have vast greenery for jaw dropping photo opportunities, a courtyard for your confetti moments, plus a private lake with a rowing boat included in your hire for you to slip away for a private moment- see what I mean when I say 'poetry in real life'!  The ceremony barn holds 150 people max (including any suppliers you may have hired for the ceremony) and the white barn seats 140 people. If you'd like to look around, Wyresdale Park's website actually has a fantastic virtual tour feature so you can look around and see if this is your dream venue from the comfort of your home. https://wyresdaleweddings.co.uk/virtual-tour/
Another venue just around the corner from me- I'm very lucky, I know – is Charnock Farm, set in Leyland, Lancashire and what a gorgeous little venue it is. The converted ceremony barn has those beautiful high ceilings, wooden beams and a unique exposed warm toned, red brick fireplace. Stunning, right? Add some fairy lights and you have a truly magical setting! According to Bridebook, Charnock Farm has a seating capacity of 120 and a reception capacity of 200- so you don't have to cut down your guest list! With several photoshoot opportunities, Charnock Farm is home to a sweet little farm, surrounded by greenery and a lovely river you can walk along for a private moment after you've said, 'I do!' A perfect place for planning your wedding, in addition to Charnock Farm being a beautiful wedding venue, it's home to some wonderful wedding suppliers; a bridal boutique, hair salon, beauty parlour and a fantastic pub which I have spent many a summer afternoon sat admiring the lake.
WOOLAS BARN, APPLETON, ROEBUCK
Taking a trip out of my home county Lancashire and taking a trip to Appleton, Roebuck, Yorkshire, we have the wonderfully rustic, Woolas Barn. This venue is pretty new to me, although if you're looking for history, you're in the right place- this barn is 400 years old! Woolas Barn combines 4 linked areas; The Stables, which is now restored into the ceremony room but sporting the original wooden beams and tonnes of character; The Granary, the oldest area of Woolas Barn and now converted to your huge reception area with a bar (capacity up to 160 guests for your evening) and upstairs snug area for those guests wanting a cocktail and a chat; The Lambing Shed, now converted into your dining area (seating up to 130 guests) it boasts beautiful glass doors allowing you to look out over the courtyard whilst you enjoy your wedding breakfast; The Courtyard, your outside area kitted with a firepit overlooking the vast fields heading towards the city of York.
BROWSHOLME HALL AND TITHE BARN, CLITHEROE
Browsholme Hall is a pretty special place with being home to FIVE wedding venue options; The Regency Room, a romantic drawing room reminiscent of Edwardian time is perfect for your small civil ceremonies; The Pavilion by The Lily Pond, a peaceful outdoor, garden setting overlooking a tranquil lily pond; The Cart Shed, an intimate rustic venue for small weddings and events (perfect for micro wedding numbers!); Lonesome Pine, an outdoor setting within the woods for a perfect, intimate ceremony surrounded by forest trees; finally Tithe Barn. A huge, grey brick, 17th Century historic barn, gorgeous for a deeply romantic wedding! Tithe Barn has bundles of authentic barn features but has a modern touch with exciting lighting options moving from your day to night event! Leading out from the barn itself is a courtyard perfect for your drinks as the room changes from your day-do to night! Tithe Barn holds up to 120 guests.
So, there it is a little list of a few of my favourite North West barn wedding venues. I hope this helps you decide which venues to view and which ones have stolen your heart!
If you would like any more suggestions or advice, please do get in contact. Also if you would like to enquiry regarding wedding videography- contact me through my contact page! I would love to capture your Barn wedding!